Lord Jamar Weekend Special
$

100.00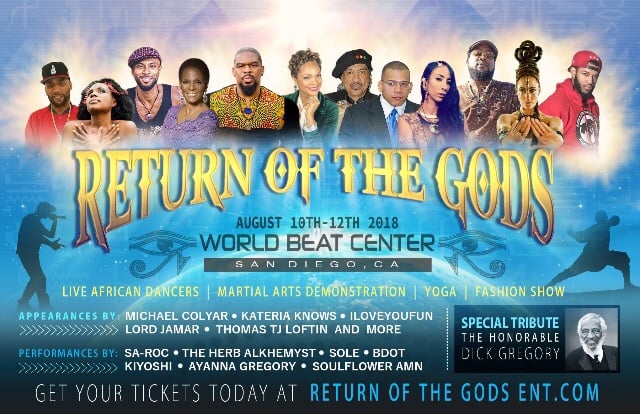 Weekend Special grants you access to all 3 events.
Events:
- Friday, 8/10, Return of The Gods of Hip- Hop, 5pm-9pm
- Saturday, 8/11, The Real Family Reunion_ Return of The Gods, 11am-7pm
- Sunday, 8/12, God's Day of Workshops, 12pm-6pm
Return of The Gods is a Royal festival, celebrating the shift and rise to enlightenment.
Come out for an amazing show of Live Hip- Hop, Motivational speakers, Live African Dancers, Martial Arts demonstration, Yoga, an Award Ceremony of Master Teachers and Scholars, Couture fashion show and Sooo MUCH MORE!
Our Speakers, Honorees and Entertainers are Gods and Goddesses of this Great awakening. This years' Line up includes; Queen Afua, Kaba Kamene Hiawatha(Booker T.Coleman), Sa Roc the Emcee of Atlanta Georgia, BdoT the Conscious battle rapper, Chef Ahki, Memnon Uzan, Sole, Michael Imhotep of the African History Network, The Herb Alkhemyst, Michael Colyar and IloveyouFun, just to name a few.
Bring the family out to have a great time celebrating the Great Awakening with us! Come dressed as the True Royalty you are, in royal blue and gold.
divinely align with us!
returnofthegodsent.com
Friday, Return of The Gods of Hip- Hop, 5pm-9pm
Join us for the celebration of the true origin of Hip-Hop. Our first day is dedicated to Real Hip- Hop. Return of the Gods of Hip- Hop that is. Hosted by Lord Jamar of Brand Nubians, we will have live performances by Soulflower Amn, Herb Alkhemyst, Hassan N' Prodigy, and more. Honorees include Sa-Roc the MC, BDOT, Public Enemy's Professor Griff, and The Brand Nubians! The night will be filled with graffiti, beatboxing, breakdancing, off-the-top rhyming battles and more! There will also be a hip-hop fashion show as well as tributes made to Tupac and D.J. Kool Herc, the Godfather of Hip- Hop.
Saturday, The Real Family Reunion_ Return of The Gods, 11am-7pm
The Main Event will be Held on Saturday, August 11th, 2018, and hosted by actor & comedian Michael Colyar, and Mama Funshine, a.k.a I Love You Fun! Headline performers include Ayanna Gregory, daughter of the late honorable and legendary Dick Gregory; Sa-Roc The MC, The Conscious Battle Rapper BDOT, Kiyoshi, Emcee & Yogini Sole. This years' honorees include: world renowned Healer & Author Queen Afua, for her contribution to the World of Natural Health, researcher and lecturer Michael Imhotep, of the African History Network, for his diligence to educating and uplifting African people around the world; Chef Ahki, for knowledge of healing through electric foods, and Kaba Hiawatha (formerly known as Booker T. Coleman), for his dedication to liberating our minds with unquestionable truth of our history. Our speakers for this years' reunion include: Memnon Uzan of Afruzan.com, Kateria Knows of Astrologicschool.com, The Herb Alkhemyst of ammashs.com, Grass Hop & Koshana Jones of Black Economics 1on1, and Thomas TJ Lofton the Money Man!
Sunday, God's Day of Workshops, 12pm-6pm
Live workshops by Queen Afua, Chef Ahki, Memnon Uzan, Sole, Thomas TJ Loftin, Kateria Knows and more! This day you get a chance to learn and experience what our master teachers have to offer, up close and personal. There will be a series of workshops for you to from to participate in. There will be many things the family can do, from yoga, painting, dancing and shopping with our vendors. This will be a great day and great way to wind down after Friday and Saturday's festivities.